<![if !vml]>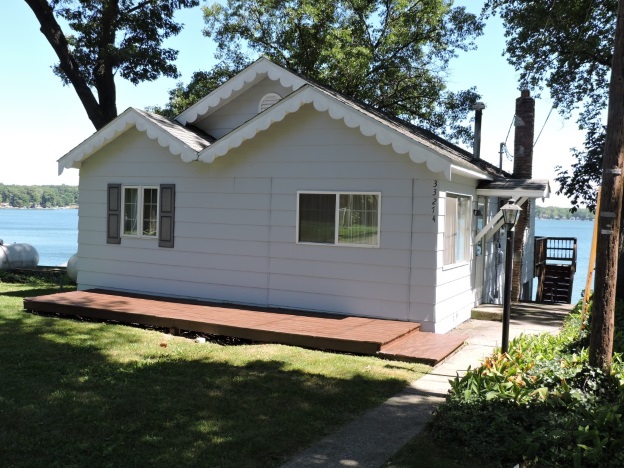 <![endif]>
           Weekly Rental Cottage on Indian Lakefront
                           Phone Floyd Jerdon (269)782-4000
<![if !vml]>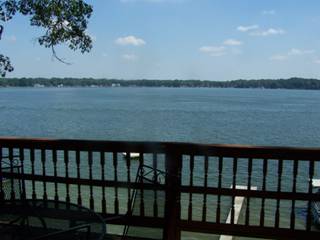 <![endif]>         <![if !vml]>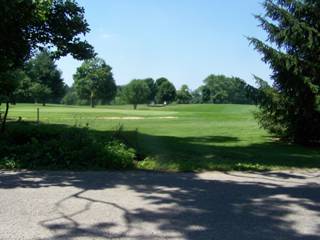 <![endif]>
View from the lakefront deck                            View across quiet road to Golf Course
<![if !vml]>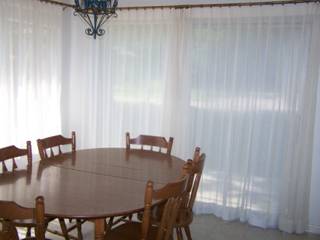 <![endif]>         <![if !vml]>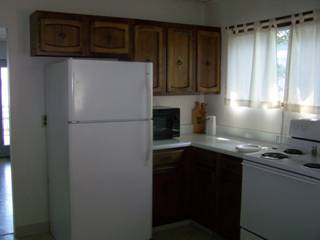 <![endif]>
Dining room partially views golf course           Nice kitchen (newer appliances)
<![if !vml]>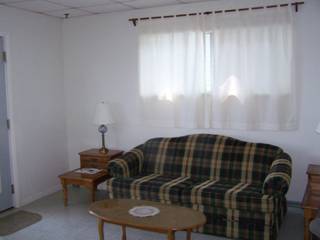 <![endif]>         <![if !vml]>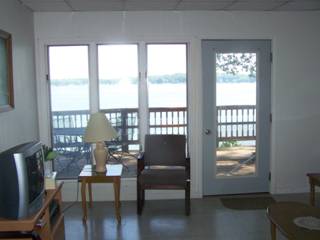 <![endif]>
Living Room                                                     Living Room views lake
<![if !vml]>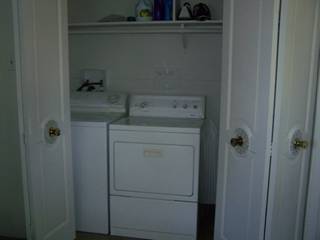 <![endif]>         <![if !vml]>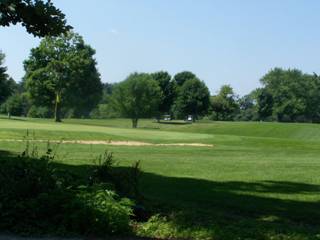 <![endif]>
Washer / Dryer                                                 Another golf course view across street
Location:  33714 German Village Road, Eau Claire, MI 49111.  Across from Indian Lake Hills Golf Course just South of the 9th Hole tee-off.  About 95 Miles from the Chicago City Limits (2 hours drive time).  About 20 miles East of St. Joseph, MI, about 25 miles North of South Bend, IN.
Directions:  Take M-62 between Dowagiac & Eau Claire, MI, Go North on Brush Lake Road, Right on Forest Beach, take right fork at lake, cottage on left. (gray siding & look for sign).  From Illinois, take I-94 to Exit 30, turn right onto Napier Avenue and take for 7 ˝ miles, turn right (again) onto M-140 for another 7 ˝ miles (again), turn left onto M-62 for about 2 miles, turn Left (north) on Brush Lake Road, turn Right on Forest Beach, take right fork at lake, on left.  From South Bend, IN, take U.S. 33 North into Niles, MI, turn right onto M-51 North and take for about 6 miles, turn Left onto Indian Lake Rd (Sumnerville) for another 6 Miles, Turn Left onto M-62, turn Right onto Forest Beach Road and follow lake to cottage (once Golf Course appears on your left you are there).
Features:  40' of sand swimming beach great for kids, pier, row boat, panoramic view of the lake.  Sleeps maximum of 6 people with 2 bedrooms and sleeper sofa in living room.  Full shower bath, lakefront deck, kitchen, dining room & living room.  Golf course view from 2nd road side deck.  Has stairs from cottage down to lake (40 steps).  Road is quiet and neighborhood traffic typically.
Lake:  500 acre spring fed full recreation lake.  Has central sand bar for additional swimming or just playing Frisbee, yacht club with Sunday sail boat racing in season, lower boat traffic, and great place to spend a week (or two).  City sewer.
Cottage:  Fully furnished, central AC, cable TV, micro wave, coffee maker, toaster, pots, pans, silverware, utensils, washer, dryer, charcoal grill, picnic table, lawn chairs, & equipped kitchen.  2 Bedrooms, 1 shower bath all in nice condition.  Separate living and dining rooms. Each bedroom has its own queen sized bed and in living room is a full sized sleeper sofa.  Has gas forced air heat if needed.
Contact Floyd Jerdon (only) at (269)782-4000 for availability.  Owner is a real estate broker.
You Need to Bring:  Sheets & pillow cases for the two Queen sized beds plus full sized sleeper sofa.  All paper products including tissue paper and paper towel, charcoal for the grill & small outboard engine for the furnished row boat.  Groceries can be purchased in nearby Dowagiac at Family Fare Grocery (take M-62 East, right on Pokagon, Left on M-51, on right). 
Rates & Deposit:  Rent is $1,200 per week Saturday to Saturday with check out at 10:00 AM SHARP (Michigan time), check-in time is 2:00 PM (Michigan time).  NO 2-day or WEEK END RENTING.      Everything is clean and well kept.  50% deposit required to hold a week.  Refund upon cancellation only if your week can be rented to other tenant after your cancellation. 
Showings:  We will be glad to show you the cottage before renting.  We have provided several photos here but we encourage you to come and view the cottage before renting if you can.  Make arrangements with Floyd prior to traveling here.
Jet Ski & Boat Rentals:  Contact Lake Effect Power Sports (269)944-5577 in Sister Lakes.  You can dock it securely to an auger post, anchor, or to the dock.
Golf:  Indian Lake Hills is a 27-hole public course directly across the street from cottage.  Club house, bar, outdoor patio, that all views the lake (too).  You can walk to the club house ( a good walk) from the cottage about three good sized blocks away.  Golf carts available at club house.  You can also rent the cart and then come pick up your partner if necessary.
Food & Spirits:  Very nearby either on the lake or next to the lake is:  Timberline Inn (fine restaurant & bar area), Golf Course pub (causal).  City of Dowagiac about 15 minutes away with many other restaurants, grocery shopping, and fast food (take M-62 East into Dowagiac).  Try Zekes (restaurant & spirits), Wood Fire (fine Italian), China Garden, Wounded Minnow (bar with food).  Just East of Dowagiac on M-62 about another 3 miles is Lindy's a great place for food & spirits on Lake LaGrange.
            For breakfast, try:  Indian Hills Club house (ask first), Zekes, Track Side, & Wahoo in Dowagiac.  Home made candies & chocolates plus ice creams & shakes, try Caruso's in Dowagiac.  Several ice cream shops, pubs, bars, etc., in nearby Sister Lakes (take Indian Lake Road north to Sister Lakes).  Pizza can be ordered for pick up at Pizza Hut in Dowagiac on M-51 just North of town (269)782-9888.
Other Things to Do in the Area
<![if !vml]>
<![if !vml]>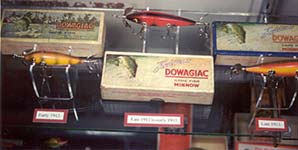 <![endif]>
National Heddon Museum
Located in the former Heddon factory at 414 West Street, the National Heddon Museum preserves the history of the Heddon family's many contributions to the fishing tackle industry and to the City of Dowagiac.

It was along the banks of Mill Pond in the late-1890s that James Heddon sat whittling, while waiting for a friend. When he got up to leave, he tossed the small piece of wood into the water, where it was struck by a bass. That seemingly insignificant event led him to build a top-water lure, which he called the "Dowagiac." By the 1920s, Heddon's Sons was the world's largest producer of quality fishing tackle.

At the centerpiece of the family's history and of the museum is James Heddon's Sons Co. From its inception in 1902 until its departure in 1984, the company made fishing tackle, golf club shafts, ski poles, violin bows, box kites and even radio antennae during World War II.

On display are more than 1,000 lures, 140 reels and 150 rods, including an original James Heddon frog, one of the most sought-after of all collector lures. Visitors can also view models of the famous "flying fish" airplanes, produced by Heddon Aviation Co.

The museum is open Tuesdays from 6:30 to 8:30 p.m.; the last Sunday of the month from 1:30 to 4 p.m.; or by special appointment. Admission is free. To learn more about the National Heddon Museum call (269) 782-5698.

James Heddon
Notre Dame University take Indian Lake Road South, turn right onto M-51 South through Niles, MI, becomes US 33, cross state line into Indiana Left at the Dome.  About a 40 min. drive.
<![if !vml]>
<![endif]>  The better campus is in Ann Arbor, but ND is nearby. <![if !vml]>

<![endif]>
St. Mary's College is across US 33 from Notre Dame.  Also a beautiful campus.